Dr. Esther Ngumbi is a 2007 recipient for the highly competitive American Association of University Women (AAUW) International Fellowship. Dr Ngumbi is currently a post-doctoral researcher at the Department of Entomology and Plant Pathology at Auburn University in Alabama. She serves as a 2016 Clinton Global University (CGI U) Mentor for Agriculture. Esther was named by One World Action as one of the 100 powerful women who change the world and recently, one of eight up and coming leaders in the climate change movement. She continues to be a global leader, motivational speaker and is passionate about issues related to hunger, gender, education, youth activism and sustainability.
Afroscientric met up with Dr Esther to get information on how her journey into becoming an awesome scientist began and how she managed to do all of that and still impact both the local and global community. We hope this interview will be a source of inspiration to all our readers.
Can you tell us a bit about growing up in Kenya and how you got interested in science?
I was born and raised in a small community called Mabafweni in the Kenyan Coast. I am a second born in the family of seven including my father and mother. Both my parents were Primary School teachers and practiced small scale farming to supplement their small teaching salaries. So, as a child I participated in farming, together with my parents and siblings. I went through elementary school, high school and eventually college and attained a Bachelor of Science at Kenyatta University. As I was growing up, there were many years in which we almost lost our crops like maize and beans to insects and plant diseases. In a quest to make sure that my family never goes through such daunting challenges, I felt an interest to pursue a career that would permit me to study soils, insects, and the diseases they cause and discover how we can use knowledge about their behaviour to manipulate insect-plant systems in order to reduce their depredations. I wanted specifically to be able to make a contribution to food security in Kenya and our world. After my graduation with a Bachelor of Science, I made another step towards the actualization of my dream by pursuing a Master of Science degree. After graduating with a Master of Science degree, I received a two-year scholarship in the State of Israel, Agricultural Research Organization (ARO). Finally, I pursued my doctoral studies in the United States of America. On a beautiful summer day of August, 6, 2011, I graduated from Auburn University with a PhD in Entomology.
Did you have any science role models growing up?
No. I always say that I actually wanted to be an accountant. Not because I loved it, but because, when I was young, I would go with my parents to the city to collect their pay checks before sending us to school. I remember admiring the accountants who were seated behind the glass counters at the bank. They were always well dressed. Hmmm I would marvel, I would love to be an accountant so that I can dress well and work in an air conditioned building.  The accountants were my role models and so I wanted to be like them. It was not until I was admitted to Kenyatta University to pursue a Bachelor of Science degree in Biochemistry and Zoology that I discovered science. My lecturers and Professors at the University then become my role models who I started to look up to.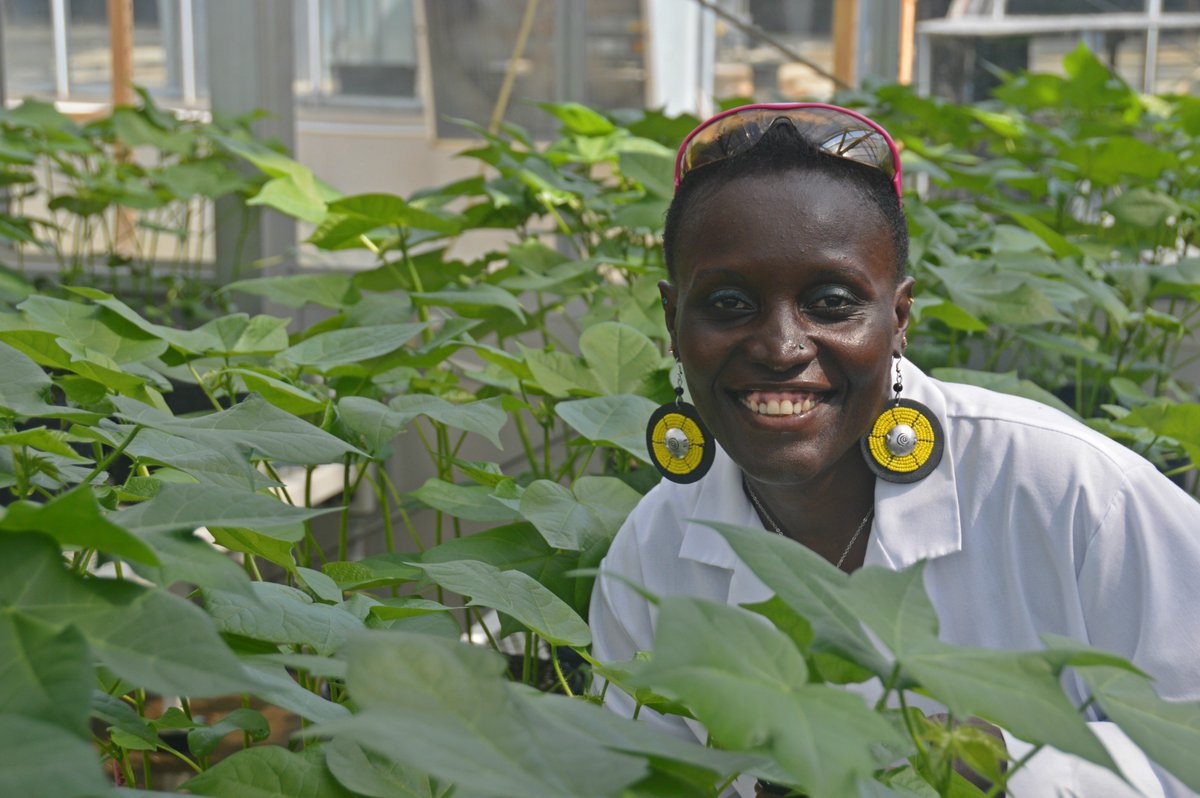 What sparked your interest in Agriculture?
My family practiced farming ever since I was a small child. I enjoyed going to the farm. I enjoyed touching soil. I enjoyed the process of farming. So at the age of seven, I decided to try farming on my own. To do so I asked for a piece of land and my parents willingly gave me a strip of land along the river, on which I planted cabbages. Every day I went to watch their progress, and slowly the cabbages came up, green and vibrant.  Then one day the rains came, and kept coming, and the river rose higher and higher, until it flooded out the cabbages and destroyed my small farm patch.  As I was growing up, I saw how unhealthy our soil was.  We battled insects and poor rainfall, and often ended up with no harvest-which meant we were hungry, but we kept at it. Farming was our livelihood, whatever the challenges. I also saw my neighbours and community members go through the same farming challenges.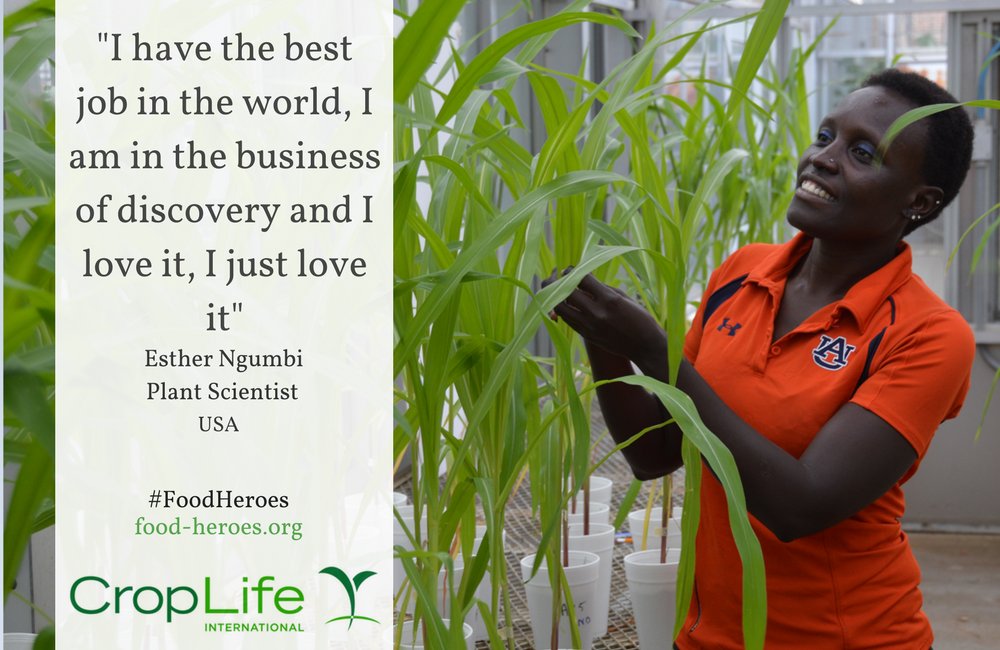 These experiences and challenges inspired me to pursue a career in agriculture. As I shared earlier, I was inspired to pursue a career that would allow me to study soils, insects, and the diseases they cause and discover innovative solutions such as those offered by beneficial soil microbes that can be used to help farmers grow food sustainably. I wanted to be able to make contributions to food security and agriculture.
Today, I am a researcher and my main goal is to develop sustainable pathways to increased food productivity. Only in this way can we end hunger once and for all.
Tell us about your PhD project and the U.S patent it resulted in
When they say when you are scientist, you never know what you are up to- that is true. If you would have told me that at the end of my PhD, I would be a Patent owner, I would have refused. My PhD was on finding sustainable ways to feed an expanding population without using pesticides. My research also evaluated the potential of beneficial soil bacteria to promote growth and enhance tolerance to drought stress. Beneficial soil bacteria, specifically, plant growth-promoting rhizobacteria (PGPR) are a wide range of root colonizing bacteria whose application is associated with increased rates of plant growth, suppression of soil pathogens, and the induction of systemic resistance against insect pests. PGPR have been applied to different agricultural crops for the purpose of growth enhancement and other positive effects in plants, such as seed emergence, tolerance to drought, and increase in weight of plants and shoots. Technology based on PGPR and other microbial inoculants formulated from beneficial soil bacteria offers environmentally-sustainable approaches to improving crop and rangeland productivity under a changing climate while restoring degraded soils.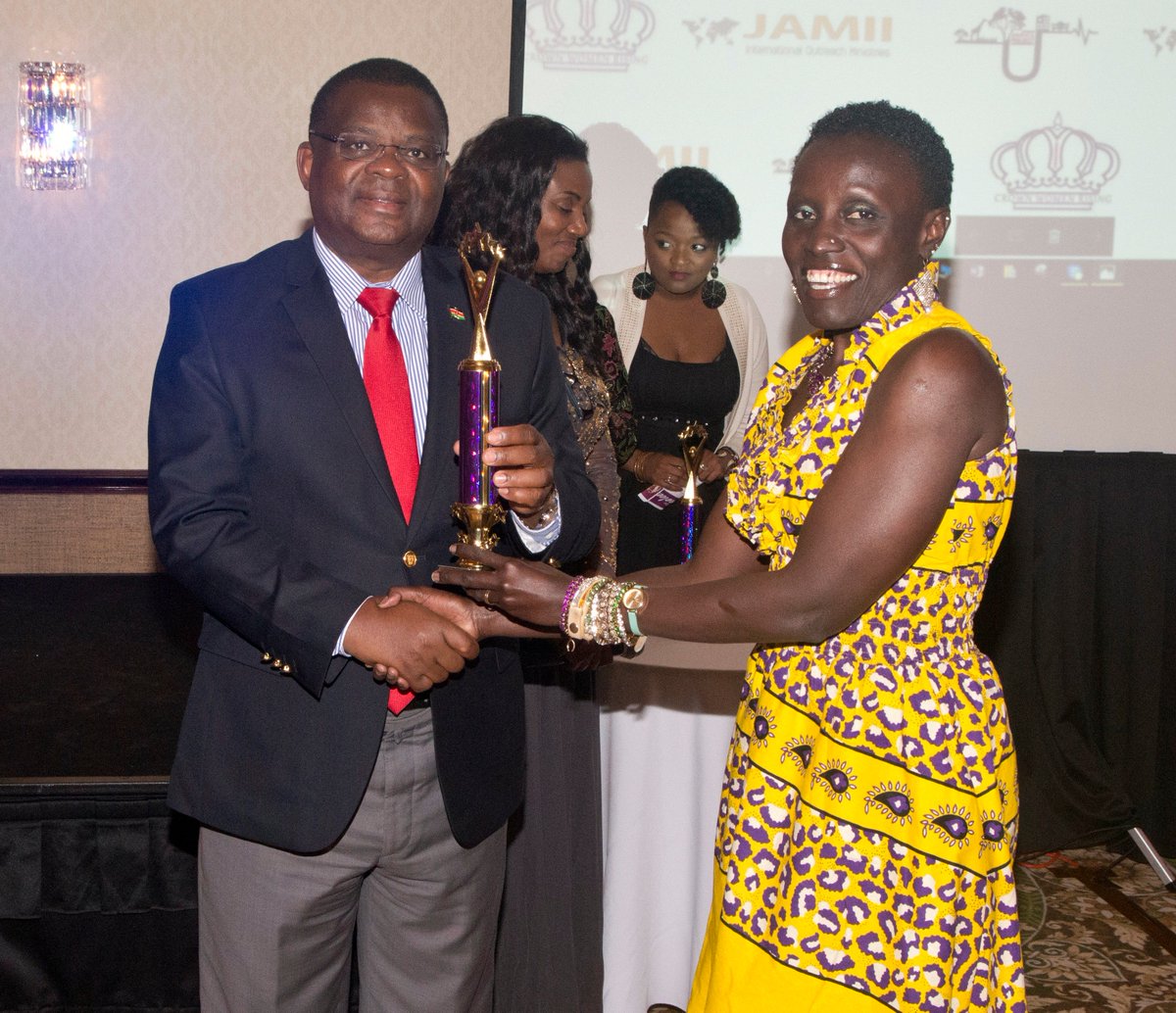 My pioneering research on beneficial soil microbes resulted in the issuance of two US patents; US Patent, NO. 8,445,255 B2- Inoculants Including Bacillus Bacteria for Inducing Production of Volatile Organic Compounds in Plants, issued in May, 2013 and US Patent, NO. 9,282,745 B2- Inoculants Including Bacillus Simplex for Inducing Production of Volatile Organic Compounds in Plants, issued in March, 2016. My research discovered that treating plants with beneficial soil microbes induced changes in the plants chemistry (volatile organic compounds) with important consequences for insect pests and their natural enemies. Foraging insect pests use volatiles to discover plants. We discovered that beneficial soil microbes-treated plants were repelling away insects that eat them as a result of the changes in the volatile organic compounds produced by the treated plants. This unique new fragrance or volatile blend was also very attractive to natural enemies. At the same time microbes treated plants grew much better than the untreated plants.
This research also led to partnerships with companies like BASF interested in commercializing products from our discoveries and inventions. Additionally, I was inducted to the National Academy of Inventors.
How will your research fight world hunger and poverty?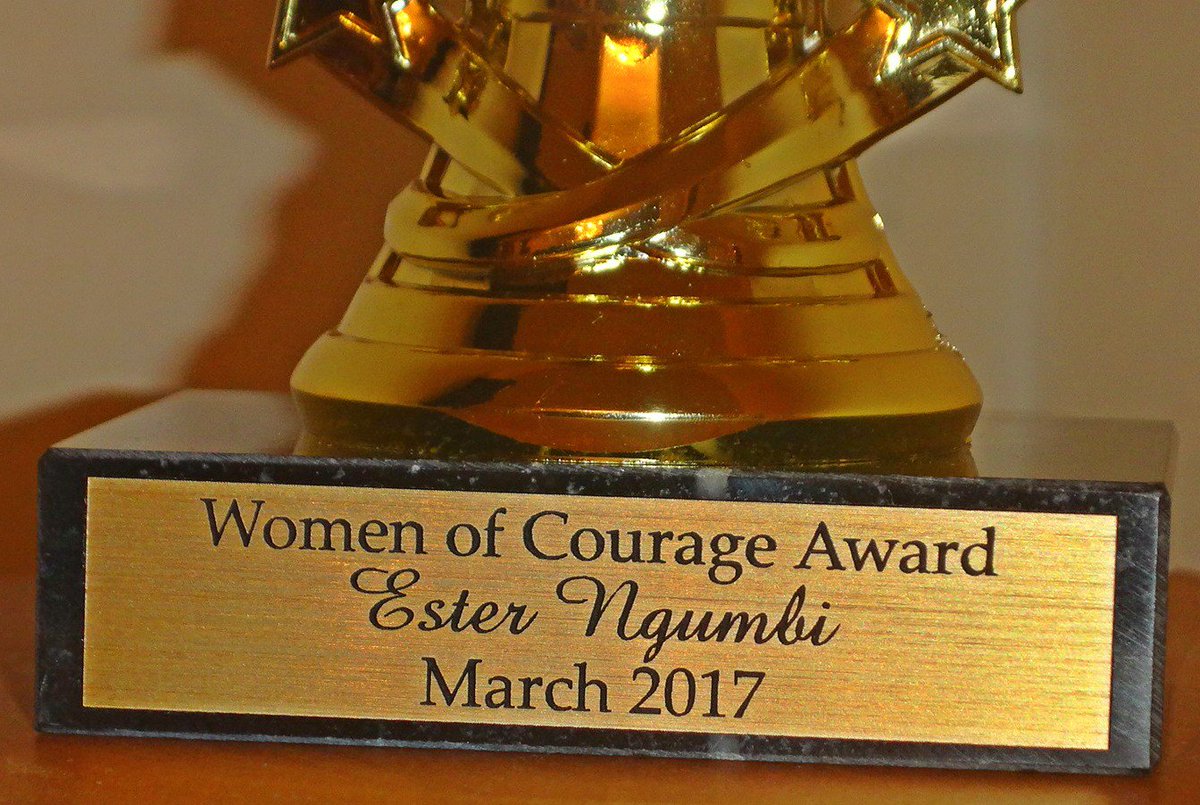 The world population is expected to reach nine billion by 2050. At the same time, land, and water for sustainable agriculture are becoming limited resources.  Furthermore, climate change and degraded soils and landscapes make feeding the growing population a complex and challenging target, hence hunger and poverty continue to be a pressing challenge. To meet the challenge, the world needs to find sustainable approaches to improve crop and rangeland productivity under a changing climate.
My research on beneficial soil microbes provides novel solutions to tackle the challenge of feeding our growing population. Already beneficial soil bacteria have been applied to different agricultural crops including maize, tomatoes and bell peppers for the purpose of growth enhancement and other positive effects in plants such as, making soils more fertile and fending off stressors of plants like insects and diseases. Beneficial soil bacteria enable plants to better tolerate extreme temperature fluctuations and other challenges that come with a changing climate. Technology based on beneficial soil microbes and other microbial inoculants offers environmentally-sustainable approaches to improving crop and rangeland productivity under a changing climate while restoring degraded soils. As hunger and food insecurity concerns increase, beneficial soil bacteria and microbial inoculants developed from beneficial soil microbes offer novel solutions needed to ensure the sustainability of our food production systems and the resilience of our agricultural systems.
You are the founder of Faulu academy, can you tell us about it and what inspired you to start the project?
On a beautiful summer day of August, 6, 2011, I attained what at times seemed to be an elusive dream. On that day, I received my doctorate degree in Entomology and became the first girl in my community to obtain a PhD degree. As I walked to get my degree, I began to cry. My thoughts meandered back to my community in Kenya. I thought of the many children in my community who had the potential to be a scientist like me but lacked the opportunity. It is during that day, I told myself that I would do whatever it would take to give the children in my community, the children from other poor communities, the children in Africa the opportunities so that they can break the poverty barrier, get an education and go out to attain whatever it is that they want to become.  Since then, I have dedicated all my passion, efforts, heart, and resources to bring sustainable change in my community beginning with education.
In early, 2012, my parents and I pulled together all the resources we had and established Dr. Ndumi Faulu Academy to ensure that every child has a solid chance at an education. The school opened doors to 14 children. They studied in a mud class but we were happy to know that we had started giving back. Across five years, we have built eight more classrooms, enrolled over 100 more students, built a library and are building a science lab to inspire a generation of scientists. The ultimate goal is to build Africa's future Harvard and empower as many students so that they too can break the ceiling and become that what their heart desire to become.
Tell us about your day as a post-doctoral researcher
Well, my day begins around 8:00 am. If I have any plants growing in the greenhouse, I check on them. Afterwards, I get to my computer station and check on mails and other things that need to be done that day. With Science, each new day is different. There is never a dull or boring day. Some days, I am setting up a new experiment. Other days, I am taking down an experiment. Other days, I am writing a manuscript.  I also always spare some time to browse the literature to see if there is a new research paper that has been published.
What are your hobbies?
I love exercising. So, my day begins at 5:00 am. I go to the gym at 5:30 and exercise for one hour. Sometimes I also exercise during the lunch hour and do it again in the evening.
What other projects are you involved in?
I am a mentor with Clinton Global and a Food Security Fellow with Aspen Institute. I am also a founder of Spring Break Kenya-an organization that is galvanizing young students into public service and Oyeska Greens a company that is working to revolutionize agriculture at the Kenyan Coast. I am also a motivational speaker. I serve as a board member for numerous organizations including Development in Gardening and Soils4Climate and am a member of Entomological Society of America Science Policy Board. Most importantly, I love advocating for the research I am doing and for food security issues and other issues I am passionate about. I have published over 35 opinion pieces in prestigious media outlets including TIME Magazine, CNN, The Conversation, Sci.Dev. Net, Los Angeles Times, World Policy Blog, and Scientific American.
What are your plans in the next 5 years?
Just keep doing research and continue building Faulu Academy. I am hoping to grow it to be Africa's future Harvard. I will also keep growing the farming initiative.  I also will continue mentoring the next generation of scientists and just be a role model to many girls.
What advice do you have for young girls who are interested in science?
Be persistent. Work Hard. Believe in yourself. Find mentors and role models in your chosen science field and allow them to hold your hand along the way. Never let anyone discourage you or tell you Science is hard. Above all, Science is fun, so have fun along the way.
What advise do you have for current science undergrads who would also like to do a PhD and have a career in science?
Keep going. It will never be easy. But if others have done it, you can do it.
Watch Dr Ngumbi's acceptance speech-2017 Emerging Sustainability Leader Award in South Africa below:
Thank you Dr Esther! You have inspired each and every one of us here at Afroscientric. Keep the flag flying!